Yesterday afternoon, after the equity market close, USD Coin (USDC) issuer Circle revealed that
$3.3 billion of its $40 billion reserves were tied up in now-failed Silicon Valley Bank (SVB)
.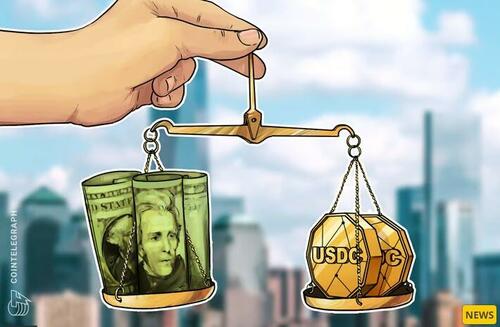 Specifically,
on March 9, Circle initiated a wire transfer
to remove its funds from SVB as the FDIC-insured
bank was about to shut operations
. However, two days later, on March 11, Circle confirmed that
the wire transfers were not wholly processed
, with $3.3 billion of USDC reserves still with SVB.
Almost immediately, leading crypto exchanges
Binance and Coinbase both said that they would temporarily suspend USDC conversions
as the contagion from the collapse of SVB plays out.
Citing "current market conditions"
without naming Silicon Valley Bank, Binance said it has temporarily suspended auto-conversion of USDC to BUSD.
Coinbase, the largest cryptocurrency exchange in the United States, also said it would suspend USDC conversion to USD while banks are closed over the weekend.
USDC prices fell almost immediately, dramatically breaking the $1 peg, trading as low as 87c to the $1 at one point but currently 'stabilized' around 90c.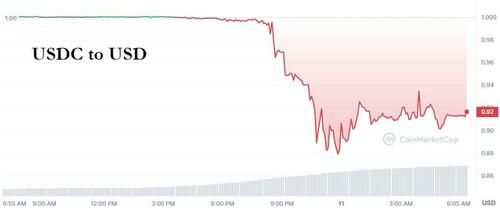 As CoinTelegraph reports,
according to Dante Disparte, the chief strategy officer and head of global policy for Circle, SVB is critical to the United States economy and warned that "its failure - without a federal rescue plan - will have broader implications for business, banking and entrepreneurs.
"As with Silvergate, our teams have worked at speed to limit any exposure to banks. This includes a wire transfer request made before SVB's FDIC receivership. A $3.3 billion cash exposure remains — but we follow state and federal regulatory guidance."
Crypto investors redeemed more than $2 billion in Circle's stablecoin in the past 24 hours
, according to blockchain data provider
Nansen
as of 10 p.m. ET on Friday. The pace of USD Coin redemptions accelerated through Friday, with most of the USD Coin burned in the last eight hours, Nansen said.
As WSJ reports,
some crypto executives questioned whether Circle has enough assets to cover its liabilities.
"Are you solvent?"
David Schwartz, chief technology officer at crypto company Ripple, asked on Twitter in response to a post from Circle.
Paolo Ardoino, chief technology officer of
Tether, said the issuer of the world's largest stablecoin doesn't have any exposure to Silicon Valley Bank
.
Tether has a market cap of around $72 billion, down from $74 billion late Friday, while USD Coin's market cap is roughly $38 billion, down from about $41 billion, according to data from CoinMarketCap.
Additionally, following USDC's depegging,
the stablecoin ecosystem immediately came under pressure, as DAI, USDD and FRAX also depegged from the U.S. dollar.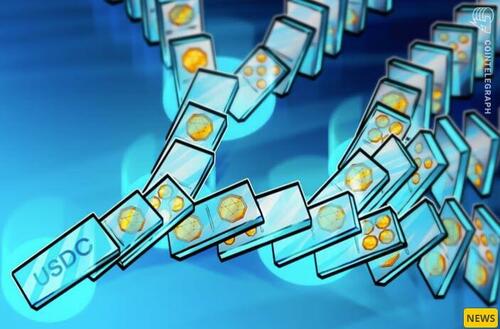 Finally, as CoinDesk notes,
if SVB customers, including Circle and its USDC stablecoin, are forced to take a haircut on their money,
the repercussions are unclear.

So who, if anyone, will step in?
When Razer CEO Min-Liang Tan tweeted late Friday that Twitter should buy SVB and turn into a digital bank, billionaire
Elon Musk tweeted in reply, "I'm open to the idea."



ZeroHedge - On a long enough timeline, the survival rate for everyone drops to zero
www.zerohedge.com